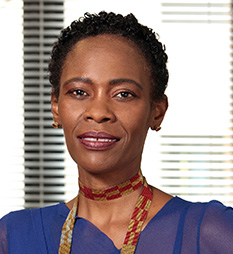 Independent Non-Executive Director
Audrey Mothupi is the chief executive officer of SystemicLogic Group, a global financial innovation and technology disruptor. Audrey's experience spans various business domains including group strategy, talent design, marketing and communications strategy, integrated with strong corporate relationship management. Prior to her appointment at SystemicLogic Group, Audrey served as the head of inclusive banking at Standard Bank Group and prior to that, Chief Executive of Strategic Services at the Liberty Group. While at Standard Bank, Audrey's division was awarded the 2013 BAI-Finacle Global Banking Innovation Award for innovation in societal and community impact.
She was also responsible for migrating 3.5 million Standard Bank customers onto a consolidated SAP platform during her former position as director of banking and lending products at Standard Bank. Audrey is an independent, non-executive director on the Pick 'n' Pay board; serves as the chairperson of Orange Babies of South Africa, a non-profit organisation focused on the prevention of mother to child transmission of HIV/Aids and the care of Aids orphans and vulnerable children across South Africa, Namibia and Zambia; and is a Member of the Nordic Female Business Angel Network (NFBAN) Board, an organisation that advocates impact investing as a way to demonstrate measurable impact and profitable business models. She is a member of the Numeric Board of South Africa, an organisation focused on helping young South Africans excel in Maths, and train world-class Math teachers. She more recently became an independent non-executive director at EOH Holdings Limited, an organisation providing the technology, knowledge, skills and organisational ability critical to Africa's development and growth.